Our original website served us very well for the last decade, but since our company has grown and changed dramatically over the years, we felt that it was time for a massive website overhaul.
If you're used to seeing our original website, there are a few key differences you might notice…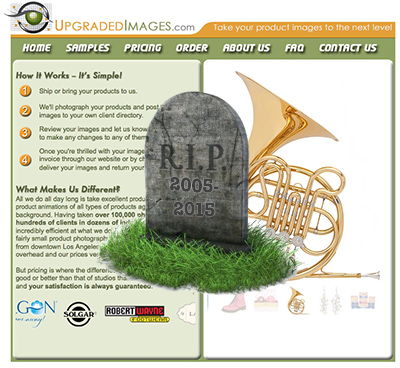 New Pricing Packages
Our Web Trio and Web Trio High-Res packages have been replaced with the following  packages: Take Me Online™ and Take Me Everywhere™. Please visit our Pricing page for details.
New Shipping Instructions
While we used to ask that all packages be shipped to our mailing address on Lake Avenue, we now ask that you only send USPS packages there and send packages from UPS, FedEx and DHL directly to our studio. See our Order Page for details.
New Clothing Website
Clothing photography is now its own department within Upgraded Images and has its own website. Check it out at ClothingPhotography.com.
Obviously, we've made a lot of other changes as well. We certainly hope you like the new site and definitely want you to tell us if you think any part of it could use improvement!